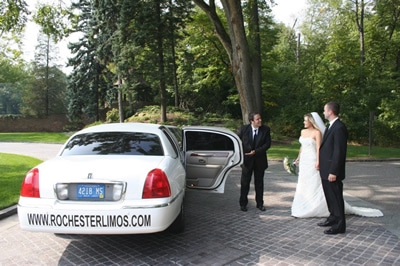 Your wedding will be a day for you to remember for the rest of your life. While it may seem like an endless process if you are in the middle of planning, it's important to keep the end in mind. Before you know it you'll be living inside your dream day with all your closest friends and family around you to witness the event. Being in the middle of wedding planning, you have probably been met with an unlimited number of options for different aspects of your special day, including venues, coordinators, and caterers.
However, when it comes to transportation on your wedding, there is really only one option if you want to make the most of your day. With Clinton Twp limo service, you'll be free to enjoy the day how you want while adding another level of pampering to this monumental day in your life. When you have a professional wedding limousine and party bus company taking care of all the details, you won't have to worry about a thing. These are some of the top reasons to work with a limousine and party bus rental company in order to make your day a success.
1. Wedding Expertise
With expertise in the wedding industry, an experienced limousine and party bus rental company will know the answers to your questions before you even ask them. In addition to the questions you do have, they'll make sure you think about all the questions you didn't even know to ask. This will help you feel comfortable knowing you are in great hands. Just as you have probably hired wedding specialists for all other aspects of your wedding like photography, venue selection, and catering, why wouldn't you do so for your wedding day transportation?
2. Customizability
A professional Clinton Twp limo company will be able to work with you to create any experience you'd like when it comes to wedding day transportation. If you have your wedding party riding along with you in the back, it may be fun to do some photos beforehand or to stop at a picturesque location before you head over to the wedding venue. For anything from route selection to refreshments waiting for you in the back when you arrive, a limousine company can make it happen.
3. Safety
While safety may be an afterthought in your mind when it comes to wedding planning, you can be sure it will be at the forefront of your driver's mind. When you are dealing with a professional luxury transportation company, you can rest assured knowing your driver will be properly licensed and trained. With this in mind, you really won't have to worry about a thing on your wedding day… at least when it comes to transportation!
Book Clinton Twp Limo Service for Your Wedding Day
To get in touch with the best Clinton Twp limo service for your wedding, bachelor/bachelorette party or any other event, contact Rochester Limousine at: 248.289.6665.