The Best Way to Get to Your Own Wedding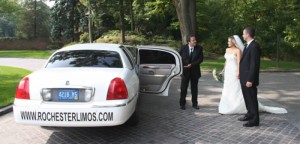 Wedding planning is nothing short of extremely complicated. To have the big day come together how you want, each event and activity needs to play out in a well orchestrated manner. For this reason, wedding planning typically takes months of work and is rarely done without the help of family, friends, and professionals. With no detail too small, many future brides and grooms become a little overwhelmed when planning their big day.
To help make the planning and the day go a little bit smoother, getting the help of professionals can really make a huge difference not only in the work that you need to do but also in the end result when the day finally arrives. One aspect of the wedding day that is often overlooked is the day-of transportation. Without reliable transportation set up ahead of time, you risk the chance of having last minute plans fall through or, worse, being late to your own wedding! To avoid those unthinkable situations and to pamper yourself a little bit, get a wedding limo for you and your wedding party for the whole day. If you haven't considered getting your own limousine for your wedding day, here are just a few of the benefits.
A Detroit Wedding Limo Provides Reliability 
This is perhaps the number one reason people rent out limousines for their wedding day. When you are dealing with a professional Detroit wedding limo rental company, you can count on them showing up when they say they will and getting you to where you need to be on time. To help make sure everything goes as planned, make sure you have a timeline laid out to communicate with your limo driver well before the big day arrives. This way, everyone will have plenty of time planned into the schedule.
A Detroit Wedding Limo Provides Comfort
 Aside from being a great way to make sure you make it to your wedding on time, wedding limos are also the most comfortable option. Limos have the reputation of being the most luxurious automobiles on the road, so what better day to spoil yourself than your wedding day? Aside from the pampering, having the comfort of a limousine makes things a whole lot easier when you and your bridal party are dressed in your finest clothes for the special occasion.
A Detroit Wedding Limo Provides The Photo Op 
A wedding limousine can provide the opportunity to take photos you otherwise would not be able to get. If you would like to have some photos taken around your limousine, just make sure to let your driver know, so he or she can plan extra time for you to get the photographs that you'll cherish for years to come!
To Reserve Your Detroit Wedding Limo Now!
These are just a few reasons to get a Metro Detroit wedding limo for your upcoming wedding, aside from safety and just being an overall awesome experience. To learn more and to see what options are available, contact Rochester Limousine today and see why they are Detroit's Choice for Detroit Wedding Limo Rentals!