Getting to Your Wedding in Troy MI the Right Way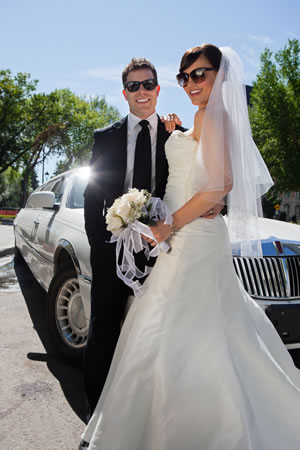 Wedding days seem to come and go in an instant. For all the hours and hours of planning that go into making your dream come true, it will seem like the blink of an eye in retrospect. Because your wedding will simply fly by when the day arrives, it's important to put the proper effort into making every moment of your wedding a wonderful experience. Getting the help of wedding professionals is a great idea for helping bring your ideas and vision to life.
With all the people willing and able to help you create the wedding of your dreams, it's much less daunting than many people originally think. With all the big picture plans you need to make for your wedding day such as the venue, first song, and menu, it's important to keep some of the less common wedding necessities in mind as well. Having a Troy wedding limo rental arranged ahead of time will make sure you have reliable transportation for when the big day finally arrives. If you haven't considered getting a wedding limousine just yet, here are a few ways it can make your wedding day a whole lot easier and more comfortable.
No Compromising Comfort
Limousines are some of the most comfortable and luxurious vehicles on the road. By having a limo rented for you and your wedding party on your wedding day in Troy, MI, you won't have to worry about whether or not you will have a comfortable place to relax as you go from place to place throughout the day. With the plush leather seating and grand interior, your wedding limousine will make sure you aren't too close for comfort on the big day.
Reliable Transportation
Your wedding day will probably be planned around a very strict timeline. Couples getting married usually only have a few moments between major events on their wedding day to spend together in quiet, so it's important to make sure you don't have any surprise delays. By having a professional wedding limousine rental company taking care of the transportation for the day, you won't have to worry about whether or not they will show up on time and ready to go. Simply tell your limo driver when and where to pick you up in Troy, MI and you can sit back, relax, and enjoy the ride.
Style and Class
Your wedding day is the day when you can expect everyone to be focusing solely on you. As the center of attention, you deserve to spoil your new spouse and yourself a little bit while you have the spotlight. With your own Troy wedding limo, you can make sure everyone knows who the day is really about with a grand entrance! If you want to remember the feeling of riding in such a luxurious automobile for years to come, make sure to plan to get some photos with the limousine!
For More Information on a Troy Limo or Party Bus Rentals for Your Wedding
These are just a few of the ways a limo can make your wedding day one of the most memorable days of your life! Call Rochester Limousines today at 248.289.6665 to book your own personal Troy limo for your wedding day.  FREE TROY LIMO RENTAL QUOTE
---
Additional information on Troy Limos from Rochester Limousine.