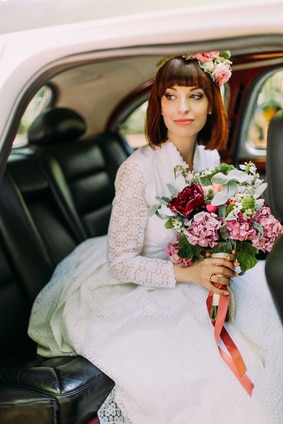 Somewhere between the "yes" and the "I do," there is quite a bit of work to be done. Planning your wedding can be one of the most stressful, yet rewarding experiences of your life. As it is a day you will remember for decades to come, it is worth really pouring your heart into your wedding plans. With all the choices for every detail of your wedding though, it can be a little bit exhausting. Because of this, it's usually helpful to get some professionals involved to help you throughout the journey.
This usually includes florists, caterers, and decorators, but there is a very crucial part of any wedding day that doesn't usually get the spotlight – transportation. Yes, transportation on your wedding day is as vital as having a cake. After all, if you have no way to get to your wedding, how will you get married? For first class wedding transportation, look no further than a Troy wedding limousine and party bus company. They know what it takes to make sure your wedding day goes as hassle free as possible. If you haven't figured out your wedding day transportation plans, here are just a few benefits to getting your own limousine or party bus for the big day.
1. A Wedding Limo is Reliable
Reliability is the number one benefit of reserving a Troy wedding limo or party bus. When you are running on a tight schedule, you can't afford for something as critical as transportation to make you late. When you have a chauffeured limousine or party bus bringing you to your wedding destination, you'll be able to relax knowing you are in good hands. Just make sure to have a firm time and location set before the big day and you will be good to go. Your dedicated transportation professional will take care of the rest making sure you have nothing to worry about.
2. Limos are Comfortable
The next biggest benefit to having your own limo or party bus after reliability is comfort. When you and your bridal party are all dressed up in your finest wedding attire, the last thing you want to be is uncomfortable. Your limo or party bus will have plenty of room for everyone to stretch out and relax before the day really gets going.
3. Customization
Aside from the basic benefits like reliability and first class comfort, your wedding limousine or party bus experience has the ability to be uniquely your own. When you are working with an experienced Troy limousine company, you will be able to craft your transportation experience anyway you want it. This includes things like having your favorite drinks or snacks waiting for you when you get inside, having your own custom playlist playing as you drive off from the ceremony to the reception, or stopping along in your favorite park to take a few photos before things get started.
Reserve a Troy Wedding Limo with Rochester Limousine
As these are just the tip of the iceberg when it comes to wedding limousine and party bus benefits, contact Rochester Limousine today to reserve your Tory wedding limo!