Your Wedding Day: Don't Run Late with a Limo!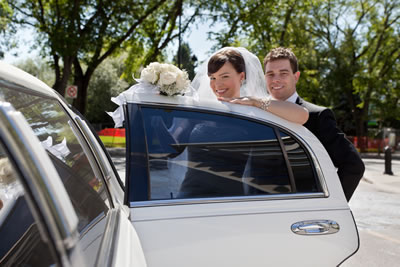 When getting down to the nuts and bolts of your wedding day, having a clear cut schedule will help you to make sure everything goes as smoothly as possible. With everything going on from photos to seeing friends and family, it may even be a good idea to schedule some time for yourself to sit in silence for a few minutes and catch your breath. To help make sure things go as planned, it all starts with being on time!
Lucky for you, there are certain steps you can take beforehand to make sure everything gets off to a good start when the big day finally arrives. While you will understandably be a little bit flustered the morning of your wedding, it's important to get a good night's sleep before so you are ready to enjoy every moment of your life changing day. To get you where you need to go on time, hire a professional Detroit wedding limo company to make it their job to do so. With your own driver for the day, you'll be able to breath easy knowing you are in good hands. Having your own chauffeured limo for the day will guarantee you the following.
Ride You'll Enjoy
If you've never been in the back of a limousine before, you are in for a treat. When you peak your head inside the door, you will be greeted by long, luxurious seats for you and your wedding party to sprawl out on. With mood lighting and a stereo system you can plug your music into, you will have a great place to relax before things get crazy for the day.
Service You Can Trust
A professional limousine chauffeur will be experienced in getting potentially stressed out brides and grooms to where they need to be on time. Having someone who keeps his or her cool while under pressure can help you to relax and realize that everything will be just fine. In addition to taking care of the driving, your driver can fulfill any special requests along the way. If you would like to stop at your favorite spot in town before you get to the wedding venue for some photos, simply let them know your plans and away you'll go!
An Experience You Won't Forget
The time right before and right after your wedding day festivities will be a time full of emotion. When you have your own limousine rented out for the day or weekend, you'll be able to experience those moments comfortably with the people you care about most. With room for your whole wedding party to be comfortable in your limousine, you won't have to worry about not having any of your best friends and family members around for every moment of the day.
For More Information on Renting a Limo for Your Wedding Day
When it comes to renting your own limousine for your wedding day, there are tons of options to choose from. Contact Rochester Limousine for a FREE Wedding Limo Service Quote – 248.289.6665.  We are Metro Detroit's Choice for Wedding Limo Service.