Comfort and Class: Wedding Day Necessities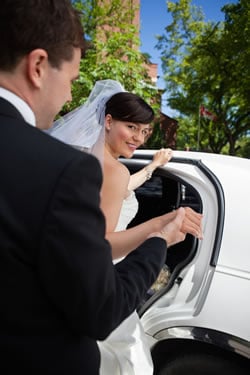 Wedding day planning can be quite an exhausting process. While many people do not notice every little detail of a wedding celebration, you certainly will! Even though it's important not to get too stressed or overwhelmed when planning your wedding, it's also important to keep in mind that every moment will count for you.
Now that you're preparing everything for your upcoming big day, consider the professionals and services that can help make things even easier and more special for you. Party planners help deal with all the little details and communicate with vendors. The caterers provide the delicious food for you and your guests. And a wedding limousine company ensures you get to each location right on time and make the most of every moment. Take the guesswork out of your wedding day transportation and enjoy the following benefits on your big day with a hired wedding limo and chauffeur.
A Comfortable, Cool Ride
If you are from the southeast Michigan area, you know that summers can get pretty toasty. While this is great for a long day spent laying out by the pool or on the lake, it's not always so fun on your wedding day. By having a limousine rented out for the day, you can rest assured knowing you will have a comfortable place to sit with plenty of air conditioning as you make your way from place to place during your wedding day. For brides, we all know how long it takes to get the perfect hair and makeup. A wedding day limo in Detroit can help keep your bridal beauty in tact and sweat-free.
Reliability When You Need It 
A professional wedding day limousine company is just that – professional. When you have a dedicated company with wedding experience taking care of the transportation details for the day, you won't have to worry about whether or not they will show up on time or if the limousine will be looking freshly cleaned. By having a dedicated chauffeur for the day, you can confidently plan your day knowing your limousine will be there when and where you need it.
Room for the Party
Maybe not the entire guest list, but you will certainly have room in your limo for the people you want by your side the most on your wedding day. With limousine options of all sizes available, you can choose the option that suits your group. When choosing your limousine to rent out for the day, you can also consider what else you would like to experience during your wedding day transportation such as beverages or snacks waiting for you in the backseat when you arrive!
To Receive a Free Wedding Limo Rental or Wedding Party Bus Quote
Having a limousine for your wedding day is a great way to release the worry about the transportation and give you and your spouse even more memories. To learn more, call Rochester Limousine today at 248.289.6665!  We are Metro Detroit's for wedding limo services!