Your Wedding Day Chauffeur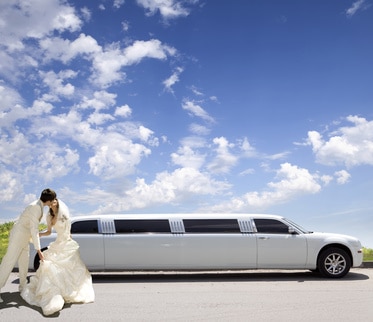 Planning a wedding can be extremely hard work. With all the pieces that must come together perfectly to form an unforgettable day, it's no wonder so many people take months to put all the pieces together! If you have a metro Detroit wedding coming up this spring, you may be in that position now where you are trying to get all your last minute plans in place! If you are and have a few outstanding items that you can't seem to get figured out, you are certainly not alone!
Now is a good time to pull together the help of some close friends or family to put some of the last minute details together. If you are still waiting to finalize your transportation details, you are in luck! Like many areas of wedding planning, wedding day transportation has dedicated, trained professionals ready to help you get from point A to B on your wedding day in the most comfortable and stylish way possible. Getting a Detroit wedding limousine or party bus with a professional chauffeur guarantees that you won't have to worry about how you will be getting around on your wedding day after making your initial plans. To learn more about what else you can expect from a wedding day chauffeur, keep reading!
A Dedicated and Professional Driver
By having one driver throughout the day, you can rest assured that they will help you work through any unexpected "bumps in the road" when it comes to your wedding day transportation. With one point of contact who has experience behind the wheel with a limo or party bus full of bridesmaids and groomsmen, you can focus more on all the other things that need to fall together during the day and leave the transportation to the pros!
Plenty of Party Bus and Limo Options
No matter whether you want to have a party bus to the energy high as you travel on your wedding day, or you'd fancy a classic limousine that guarantees a ride in style, working with a professional metro Detroit wedding limo and party bus rental company will guarantee you the experience you want. By having plenty of options to choose from, you can make sure that you pick just the right limousine or party bus for you and your group.
A Fun Atmosphere
Although your wedding day is one of the most important and unforgettable days of your life, it can also be a little bit stressful when you are in the thick of it. When you have your own limousine or party bus bringing you from place to place throughout the day, you can count on having a fun and comfortable environment to catch your breath as you make your way from place to place! You and your entire bridal party can crack open some adult beverages to unwind and let loose, without having to worry about anyone driving who shouldn't be, or anyone having to miss out on the fun.
These are just a few of the many reasons you should get a wedding limousine or party bus to bring you around town on your wedding day. To learn more and to make your Detroit wedding limo reservation, visit www.rochesterlimos.com today!