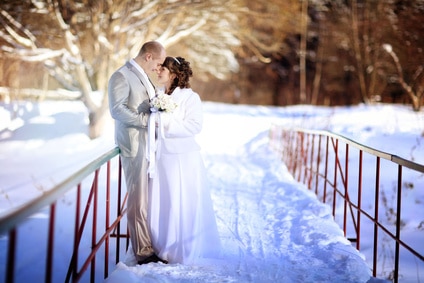 Now that the weather is chilly and the snow is falling here in Metro Detroit, it can be easy to put things off until tomorrow. In many cases, that will be just fine as there are quite a few things that can wait until the springtime (like all those home improvement projects on your list!). However, if you are in the middle of planning your wedding, you probably don't feel like you can just set things down until next week. With so much to do in what seems like so little time, it can sometimes be difficult to get everything done that needs to get done. Planning a winter wedding can be very rewarding as there are quite a few less weddings in the winter, making it easier to make your winter wedding truly unique. When it comes to the transportation for your big day, there is a clear winner: an Oakland Twp. wedding limo. A wedding limousine can alleviate the stress of trying to plan how to get to and from your wedding venue when the day finally arrives. These are just a few of the ways a professional limousine company can help make your winter wedding dreams a reality.
1. Professional & Experienced Chauffeurs
When you choose a professional Oakland Twp. wedding limo rental company to get you from place to place on your wedding day, you can be confident you will have an experienced chauffeur who is properly trained and licensed for the vehicle of your choosing. Knowing this will help you to focus your energy towards the big day and will allow you to enjoy the presence of your loved ones being all around you.
2. Comfortable, State of the Art Limousines
If you are looking to have a high-quality, well-maintained limousine for your wedding day, the fleet offered by our Oakland Twp.wedding Limo service will impress you. Having a quality automobile for your ride to and from your wedding venue can provide the perfect atmosphere for you to feel at ease and simply enjoy yourself. If you haven't been in a limousine in a long time, you will be impressed by the plush leather seats and generous space you will be able to enjoy.
3. World Class Service
For ground transportation needs on your wedding day, you shouldn't settle for less than the best. When you have a professional wedding limousine company in charge of the transportation, you can rest assured knowing you will only get the best service the transportation industry has to offer. As limousine companies are used to catering to celebrities and high power business executives, you can expect the same caliber of treatment on your wedding day. If there was ever a day to pamper yourself more than normal, your wedding day would be it!
Reserve an Oakland Twp Wedding Limo
These are just a few of the benefits you will get by renting an Oakland Twp. wedding limo this winter. Contact Rochester Limousine today to learn more and see the fleet!