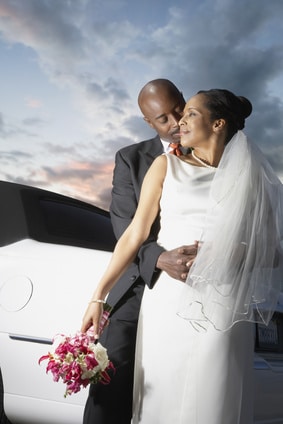 When it becomes time to look over your wedding plans to see if any last minute changes are needed, make sure not to forget your plans for transportation on your wedding day. Many people tend to forget about this crucial step in their wedding planning process and can end up scrambling to make arrangements. While it may seem trivial, getting to your wedding is actually one of the most important parts of the day. The moments before you walk down the aisle will be full of emotion so you want to make sure you are as comfortable as possible.
The easiest way to guarantee a safe and timely arrival in the best style is to book a Bloomfield Hills wedding limo. Having a wedding limo is not only practical but also tons of fun. Just making this one change to your wedding plans can help you to remember that the day really is all about you. If you haven't made any plans for transportation on your wedding day yet, think about the following benefits you'll get from having your own chauffeured limo on your big day.
1. Wedding Limos Provide Unrivaled Comfort
If you have ever ridden in the back of a limousine, you are probably already well aware of how luxurious they are. If you haven't, just picture a living room on wheels. While that may be a bit of a stretch, limousines are quite possibly the most comfortable automobiles on the road. When you are waiting for the moments to pass before you make your way down the aisle, having comfort on this scale will ensure you will be able to relax and take in all the emotions of the moment.
2. Safety is a Top Priority of a Professional Wedding Limo
With Bloomfield Hills wedding limo service, you won't have to think twice about whether or not you are in good hands. When you are working with an experienced limousine rental company, you will only have professionally trained and licensed chauffeurs behind the wheel. With all the precious cargo riding with you on your way to the wedding venue, why would you work with anyone other than the best?
3. Customize Your Day with Your Limo Service Provider
One of the best parts of working with a professional limo rental company is the ability to make your wedding experience into any kind of experience you could want. If you want to have some photos taken in front of your favorite landmarks with your limo, simply make sure to plan enough time to get the photos in. If you want to have some of your favorite beverages and snacks with you on your way to the wedding venue, just make sure to prepare them ahead of time.
Reserve a Bloomfield Hills Wedding Limo
These are just a few of the many reasons to rent a Bloomfield Hills wedding limo for your big day. To learn more, or to make your reservation contact Rochester Limousine today!
Call Rochester Limousine: 248-289-6665